Sufferers are those who go through a situation and culminate their hopes.
Learners are those, who face the situation and rise through the ashes like a phoenix.

Milkha Singh, the man who is regarded as the greatest athlete India has ever produced went through some ghastly situations and also whose life was at stake has conquered the world with his will power and determination.

"Hard work, will power, dedication; for a man with all these qualities, sky is the limit" Milkha Singh.
Total Struggle
During the 1947 India-Pakistan partition, Milkha's parents were killed in front of his eyesight and the last words his father uttered were 'Bhaag Milkha Bhaag' as he would run away and save his life. He was one of 15 siblings, eight of whom died before the Partition of India.
There was no chance of any education or well-being as there was no assurance of his survival. He lived each day as it was his last.
After shifting to Delhi in 1947, the days were back-breaking as nothing went well. He was in Tihar Jail as he was arrested because he was travelling without a ticket. His sister, Ishvar, sold some jewellery to obtain his release.
Due to the imperfect and careless company he had, he was on the verge of becoming a dacoit.
Ray of Hope
One of his brothers guided him on the correct path and suggested him to join the Army. On his 4th endeavor he succeeded in plunging in the Indian Army.
His life took a sharp turn when he was selected for athletics training after he finished 6th in the compulsory cross country race organised for new recruits.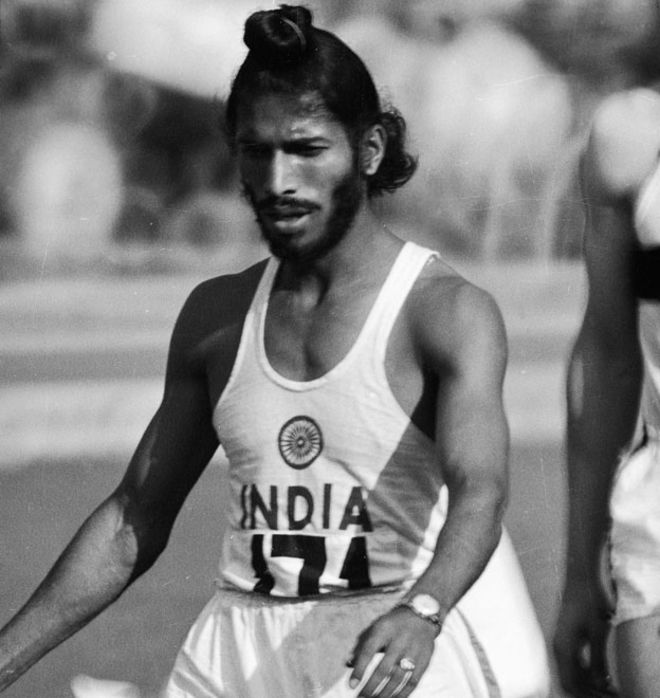 His life had a meaning after he started training and he had a motive to live for. Milkha worked extremely hard under his coaches and was determined to become an exceptional sprinter.
His hard work and will power definitely paid off as he started to create new national records.
He also went on to win Gold Medals in 1958 Tokyo Asian Games in 200m and 400m races.
1962 Jakarta Asian Games also saw him 2 Gold Medals in 400m and 4x400m relay.
One of his most clinical performances came against Abdul Khaliq in Pakistan where he received the title 'The Flying Sikh'.
Person Other than an Athlete

Along with his numbers and medals won, his tale towards glory inspires us the most.
Even after being extremely successful and a well decorated athlete, Milkha is still down to earth and knows where he came from.

The moment which Milkha Singh and not even a single Indian will forget was back then in 1956 Olympics where Milkha slowed down a bit and did a mistake where he looked at his fellow runners and that costed him an Olympic Medal. He surely regrets this mistake throughout his whole life.
Apart from a being a fantastic runner, Singh has been an idol to everybody. His ideas and opinions are definitely one should try to follow.
Milkha is married to Nirmal Saini and their son Jeev Milkha Singh is a brilliant golfer.
He describes his journey in his autobiography: The Race of My Life.
Bhaag Milkha Bhaag was a super hit film made on the life of Milkha Singh staring Farhan Akhtar in the lead role.
Milkha was awarded with the prestigious Padma Shri in 1959 for his brilliant performances for the nation.